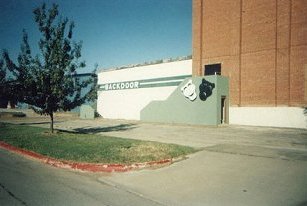 Location: Backdoor Theater in Wichita Falls, TX
Investigators: Mark & Traci Mills, Julie Scales, Kay Oakerson, Mandy Ray and Judy McCollough.
More Info: We chose to do the investigation at 11pm on the 11th of November because of the 11:11 phenomena, and hoping for help during 11:11 to aid us in the investigation.
T/D: BD111105-2300, BD121005-0930
This is a very unusual theater, which at one time had been an icehouse built in the early 1900's, and then had been converted to this community theater We decided to investigate the theater when several of our team members started hearing, feeling and seeing strange things when they would be working at the theater. They began talking to several other employees working at the theater, and others had heard, or heard about similar incidents taking place, such as voices and sightings and things moving off tables. There appeared to be a very active trickster at the theater . There was one person in particular whose name was Anthony. He was an employee at the theater up to the time of his death. Some other employees now say they have heard his voice, and one woman thought she saw his apparition. He really adored the theater, so we figured when he passed, he decided he did not want to leave, and he visits or resides there at the theater. So we decided that this would be our first official investigation.
We began our investigation about 11:00 that evening. It was a unique experience. Mark set up his laptop with video camera in one of the dressing rooms, and then we scouted around. We spent approximately 2 hours in the building taking pictures and readings and allowing the laptop to run and hopefully capture something. This place is very unique. We finally settled down in the main stage area and set quietly for a while. Finally we gathered equipment and called it a night.
Kay volunteered to go where no ghost hunter wants to go. There was this one passage way up under the stage seating area that was very narrow and very dark. The rest of us shook our heads no, that we were not going to trek down that passage way. Kay took off and Mark decided to follow. It was so dark, Kay ended up running into a brick wall head on. She finally wound up in a small room and she said once she got inside the room, she felt very uneasy and all she could think of was to get out of there. She said it made her feel very uncomfortable.
Several of the members of the team, Kay, Mandy and Mark heard a mans voice talking. Mark, Mandy and Judy heard what sounded like a radio playing far off in the distance. Mandy appeared to have picked up on several feelings: one being a man having had an accident of some sort in the building, but she was sure he did not die from it, and another one of a man who was reading a newspaper and feeling very sad. A few members said that at times, they heard what they thought was paper rustling. Most of us at one time or another would see little brief flashes of light or sparkles while sitting in the darkened theater.
After following up on all the evidence and being able to find logical reasons for some of the things we caught on film, one of the most intriguing was a short bit of audio EVP that was captured by the computer. (See the EVP section below.)
It sounds like someone whistling, then music playing and what sounds to be a train. There was no one else in the building and nothing was on at the time to make the audio sounds we captured. There were times when it seemed our equipment would malfunction for no reason, and there were a few times when some of the members felt bad uncomfortable vibes from something. The EMF meter at times was going haywire and we were trying to locate things that would cause it. We found answers for some of the readings, and none at all for others. After going over all the evidence, we agreed we needed to do a follow up to try and find explanations for some of the things we picked up on and a few questionable pictures.
There was a gentleman Mark discovered who was familiar with the place when it was an icehouse, and he said that one time there were three men who were good friends that worked at the icehouse. One of them was a younger man who was known for his incessant whistling. Sometimes it would wear on the others nerves. One day several of the men working outside noticed that they had not heard the whistling of this young man for some time. So they decided to check it out. They began searching and had found where the young man had fallen into one of the ice pits and had almost frozen to death. They rescued him and got him medical help and he did survive. That verified the impression Mandy had gotten the night we had investigated.
FOLLOW UP VISIT
One month later ...
Investigators:
Mark Mills, Julie Scales, Judy McCollough and Wayne Morgan.

We began by getting our equipment prepped and going over the plan of where Mark wanted to videotape. We had the digital voice recorder, video camera, reg. camera, compass and EMF detector. Mark did the video, Wayne was in charge EMF meter, Judy had the digital voice recorder, and Julie had a camera and took notes.

We started by going thru the "workshop area". Judy set the voice recorder in the dressing room where the team had picked up audio previously, and she left it there running. Mark ran videotape in there and then up the stairs to the back stage area of the Main stage.  Mark took videotape up under the seating area of the main stage by going thru the lobby and SRO room through a very small space. Wayne and Mark stayed together so if the meter went off they could get video. We went on around the theatre, with our equipment and was checking things and not picking up much. Finally Judy went to the dressing area and got the voice recorder and tried it in a few more places. After not getting too much, everyone went back to the dinner theater part and talked about things and about how it seemed to be fairly un-eventful. .
It was then that things started to pick up a little.
Julie and Judy concentrated on the dinner theater buffet area. At the original investigation, it was at the buffet area that we got all kinds of strong readings. As Judy began using the EMF detector, the meter would go off and them on, like the energy it was picking up was moving. So Julie snapped some shots of that area with her camera. The EMF readings continued as we walked to the back section of the DT seating area along the outside wall, and Mark and Wayne came back and joined us. The readings would come in strong and then fade or move. It seemed that the EMF readings were located in such a way that it represented the size of a person (Wayne said about 5 feet tall), and it seemed to move.  This all took place in about a ten-minute time span. Then we slowly wandered back around to the DT area and had coffee and sat around and talked a bit..
Judy got up and walked off. She later came back and said she heard a mans voice talking. We talked a bit and she left again. Later she came back and said we had to see what the cat was doing. Mark took his video camera into the room next to the dressing area, and we asked the cat to show us where the spirits were, and it was as if the cat understood our question. The cat went up three steps on the stairway and turned and faced the wall and just stared at it. This was the same place and thing she did earlier when Judy had asked where the spirits were. We then wandered back to the main stage area.

Finally we decided to call it a morning and we packed up and went home to go over the evidence. Well it seems that the energy we were having fun playing with and picking up with a meter, decided to show up on film. When Judy was in the buffet area and came across the energy that seemed to be moving and was odd, Julie snapped a few pictures, and it seems we got the anomaly on film. We have tried hard to figure out what might have caused this, and no explanation. Seems we caught energy trying to manifest.
We plan to go back to the theater one more time in the next few months to explore even more. Not sure if anything we picked up was or created by Anthony or not. Until then, we are about to do our next investigation. It is an old historical building built in 1892 and has a lot of history and seems a lot of spiritual activity as well. Stay tuned for our report on that.